Find The Million Dollar Blind Spot Before it Finds You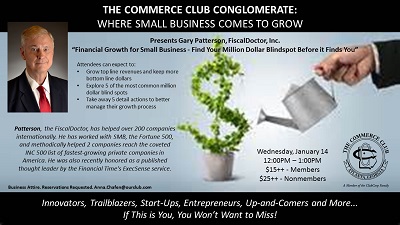 January 2, 2015 –Atlanta, Georgia – The Commerce Club Conglomerate is featuring growth expert and speaker Gary W. Patterson to present "Financial Growth for Small Business" on January 14, 2015 for innovators, CEOs, trailblazers, start-ups, entrepreneurs, up-and-comers and more. http://www.clubcorp.com/Clubs/Commerce-Club-Atlanta/Calendar/(event_id)/666781
Attendees can expect to learn how to:
Grow top line revenues and keep more bottom line dollars;
Explore 5 of the most common million dollar blind spots; and
Take away 5 detail actions to better manage their growth process.
Just as every person needs a medical doctor; every organization needs a FiscalDoctor and periodic fiscal checkups. He also supports special projects for risk assessments, enterprise risk management (ERM), operational risk management (ORM), fiscal checkups, corporate governance, strategic planning updates, and strategic growth diagnostics.
About Commerce Club Conglomerate (CCC)
The Commerce Club, also commonly known as the 191 Club Atlanta. Located at one of the most prestigious, well-known addresses in downtown Atlanta – 191 Peachtree St. in the incredible One Ninety One Peachtree Tower – our purpose at Club 191 Atlanta is to develop the leaders of today and tomorrow for the city of Atlanta. Reconnect to your business with our efficient, time-saving, superior-quality networking and business advantages; or sit back, relax and share an exquisite fine-dining experience with friends, colleagues, or someone special – all while taking in breathtaking city views from the top of "The Tower of Power"!. http://www.clubcorp.com/Clubs/Commerce-Club-Atlanta/Our-Story
About Gary W Patterson.
FiscalDoctor Inc. works with leaders to uncover million dollar holes to make the best business decisions and dramatically accelerate correct fiscal leadership decisions. This helps leaders gain control of their financial destinies and capitalize on hidden high return opportunities, while limiting their exposure to risk.
Key member of 2 successful INC 500 international companies growing rapidly profitably
Recently honored as a published thought leader by the Financial Time's ExecSense service
Goldman Sachs – 10,000 Small Business growth initiative Virtual National VBA
Visit his website at https://fiscaldoctor.com and "free" fiscal fitness test at https://fiscaldoctor.com/fiscal-quiz/ , or call 678-319-4739.
© 2014 Gary W. Patterson. All rights reserved.tel. #.  ###