Nonprofit Executive Directors and Executive Directors – Opportunity
Avoid Disruption to Your Nonprofit: How to spot the "Black Swan": Warns ERM Expert
May 29, 2014 – Santa Margarita, California and Atlanta, Georgia – Enterprise risk management (ERM) expert and speaker Gary W. Patterson (http://charitychannel.com/author/gary-patterson/), FiscalDoctor®'s article Avoiding Disruption to Your Nonprofit: How to spot the "Black Swan" published  by Charity Channel asks: how do you, with limited time and resources, uncover black swans and use them to your nonprofit's advantage? His article is thought provoking in challenging accepted thinking. http://charitychannel.com/avoiding-disruption-nonprofit-spot-black-swan/
He presents three key thoughts:
Even the best-run nonprofit organizations sometimes face disruptive events that, in hindsight, could have been avoided.
Finding and addressing a black swan in time before it impacts your organizations surplus or deficit is more valuable than a bluebird bequest of the same amount of top line dollars.
There are three tests that you can apply to a situation to determine whether or not you have found a true black swan:
Clients call him their FiscalDoctor® and just as every person needs a medical doctor; every organization needs a FiscalDoctor and periodic fiscal checkups. He also supports special projects for risk assessments, enterprise risk management (ERM), operational risk management (ORM), fiscal checkups, corporate governance, strategic planning updates, and strategic growth diagnostics.
What blind spots are you knowingly or unknowingly allowing to put organizational mission and goals at risk?
About Fiscal Doctor Inc.
FiscalDoctor Inc. enables growth through leverage you did not know you had and works with leaders to uncover million dollar holes to make the best business decisions and dramatically accelerate correct fiscal leadership decisions. This helps leaders gain control of their financial destinies and capitalize on hidden high return opportunities, while limiting their exposure to risk. Patterson, a Big 4 CPA with a MBA degree from Stanford University, speaks regularly on topics such as corporate governance, risk management, strategic contingency planning, achieving corporate financial goals, and building long-term wealth.
About Gary W. Patterson
Gary W. Patterson, president & CEO of FiscalDoctor®, has been interviewed or presented internationally at over 100 of the leading and most prestigious publications and groups in the world and helped over than 200 companies during 30 years, spanning nonprofit, supply chain, technology, transportation, construction, and service industries for companies ranging from SMB to INC 500 (2) to Fortune 2000.
His most recent book Million Dollar Blind Spots: 20/20 Vision for Financial Growth provides cutting edge follow-up for blind spots: how to identify them, and exploit opportunities and mitigate risk related to million dollar blind spots. Visit his website at https://fiscaldoctor.com and "free" fiscal fitness test at https://fiscaldoctor.com/fiscal-quiz/ , or call 678-319-4739.
© 2014 Gary W. Patterson. All rights reserved.tel. #.  ###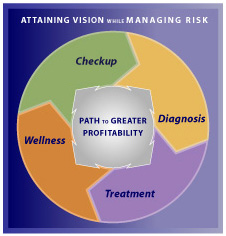 risk assessment to uncover opportunities to accelerate and risk to minimize