Alpharetta and Buford Georgia– Fiscal Leadership and Enterprise Risk management (ERM) expert and author, Gary W. Patterson, will discuss 5 of the more common Million Dollar Blind Spots most organizations have, at a book signing sponsored by BOOKS For Less. Register for the free event at Alpharetta from 12 to 3 on April 27th  http://www.mybfl.com/events.php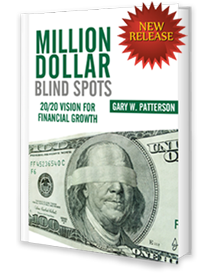 Million Dollar Blind Spots will create clear understanding on how to uncover blind spots in your company. Use these cleverly developed systems to avoid costly problems, increase profits, discover the importance of risk management, make faster business decisions and reduce functional silos.
This book helps career-motivated business executives unearth key risk areas and identify opportunities leading to sustainable growth, buzz-worthy customer value, and impressive profitability. http://www.milliondollarblindspots.com/
Mr. Patterson works with leaders to uncover blind spots to make the best business decisions and dramatically accelerate correct fiscal leadership decisions. This helps leaders gain control of their financial destinies and capitalize on hidden high return opportunities, while limiting exposure to risk. Mr. Patterson speaks regularly on topics including corporate governance, risk management, strategic contingency planning, achieving corporate financial goals, and building long-term wealth.
About BOOKS For Less
When you can buy Brand New Best Sellers & New Releases at 10% to 40% off, why would you shop anywhere else? Not to mention the tens of thousands of gently used titles we carry discounted 40% to 80% off the list price, many of which can't be found at other bookstores.
Still not good enough? Trade your books in and cut those used prices by 50% again! Add to all that delicious coffee and tea in our coffee shop, a warm, friendly atmosphere, and you can see why we're everybody's favorite neighborhood bookstore. We're a great place to just hang-out. For more information visit http://www.mybfl.com/index.php