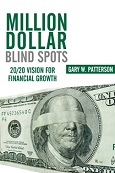 CEOs, Directors and Business Leaders: Growth and ERM Expert
Gary W. Patterson Announces Downloadable Million Dollar Blind Spots
July 8, 2013 – Seattle, Washington and Atlanta, Georgia – Enterprise risk management (ERM) expert and speaker Gary W. Patterson, FiscalDoctor®, has been selected by AudioInk to release Million Dollar Blind Spots: 20/20 Vision for Financial Growth as a digital download on Amazon, Audible and iTunes, as part of a series of business oriented books for entrepreneurs and business leaders.      http://tinyurl.com/q3udyda
Use this book either to start or sanity your strategic plan, business model update, enterprise risk assessment, strategic risk assessment, financial risk of a company, business operational risk and operational risk strategy issues.
Patterson works with leaders of growth companies who want to improve finance or operations rapidly. Often, uncovering million dollar blind spots opportunities and risks helps make the best business decisions and dramatically accelerates correct fiscal leadership decisions. This helps leaders gain control of their financial destinies and capitalize on hidden high return opportunities, while limiting their exposure to risk. Patterson, a Big 4 CPA with a MBA degree from Stanford University, speaks regularly on topics such as growth, strategy, achieving corporate financial goals, building long-term wealth, and enterprise risk management.
About AudioInk
AudioInk boasts a powerful network of online distributors providing material worldwide. Our outlets involve such industry leaders as Apple's iTunes, Amazon, B&N and more.
Founded in 2011, AudioInk Publishing, a division of Made For Success, Inc., is dedicated to providing authors and speakers the opportunity to make their Books, eBooks, Audiobooks, Speeches and other content available to leading retailers. AudioInk provides generous royalties and full service to extend the greatest opportunity to self-published authors. Great or small, everyone should have full access to distribute their work successfully. http://audioink.com/about/
About Gary W. Patterson
Gary W. Patterson, president & CEO of FiscalDoctor®, has worked with over than 200 companies spanning supply chain, technology, transportation, construction, and service industries internationally and been interviewed or presented internationally at over 80 of the leading and most prestigious publications and groups in the world.
His books include "Million Dollar Blind Spots: 20/20 Vision for Financial Growth" and "Find Your Million Dollar Blind Spots: 7 Thing You Need to Know." For more information, visit http://www.fiscaldoctor.com and his "free" fiscal fitness test at https://fiscaldoctor.com/fiscal-quiz/. He can be reached at 678-319-4739.
© 2013 Gary W. Patterson. All rights reserved.tel. # 678-319-4739.  ###