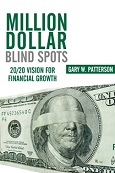 Uncover Million $ Blind Spots to Assure Million $ Profits
January 8, 2014 – Atlanta, GA – Gary Patterson, FiscalDoctor® and enterprise risk management (ERM) and operations risk management (ORM) expert and speaker, suggests how you can move your bottom line from just OK to Great!
Part of the beauty of this process is the low cost to get started. You can complete this process with minimal if any capital expenditure requirements.  Here's how it plays out…  During my discussion with client BK, I replied, "It sounds like your business operating results and supporting systems are OK, but not as good as they would be if you made some basic changes."
How familiar does this sound?  Let's talk about where you are now, what organizational bliss would mean to you, and how to get there. You know where you want to be this year, and may have a specific vision of your 3 and 5 year goals.
What I suggested to BK, and possibly suggest to you, is:
1.  First, look at which parts of your organization can build on strengths or accelerate opportunities underway.
2.  Second, decide which of those areas would benefit from a fiscal health checkup. Examples to review could include financial statements, operating reports, unit level reports, cash flow projections, budgets, strategic plans, and long term financial planning.
3.  Third, pick at least one area in the second step and get started.
Now, consider targeting a 1% improvement in your gross margin for any acceleration or improvements undertaken.
It's important to note that most of you would accept moving from "OK" (pretty unhappy place to be for most leaders) to "at least good enough." But, you can do even better and be surprised when you invest a little time off-site with these questions in order to spotlight at least one action to take with a potentially lucrative ROI.
Call to clarify any of these points, or help you get started moving your bottom line from just OK to Great!
About Gary W. Patterson
Gary W. Patterson, president & CEO of FiscalDoctor®, has been interviewed or presented internationally at more than 100 of the leading and most prestigious publications and groups in the world and helped over than 200 companies during 30 years, spanning supply chain, high tech, transportation, construction, and service industries.
His Million Dollar Blind Spots: 20/20 Vision for Financial Growth book provides cutting edge follow-up to the theme of blind spots: how to identify them, exploit opportunities and mitigate risk related to million dollar blind spots. This builds upon his earlier book Stick Out Your Balance Sheet and Cough: Best Practices for Long-Term Business Health. Visit his website at https://fiscaldoctor.com and "free" fiscal fitness test at https://fiscaldoctor.com/fiscal-quiz. Mr. Patterson can also be reached directly at +1(678)319-4739.
© 2014 Gary W. Patterson  All rights reserved.