Just back from speaking on Avoid the Five Biggest Mistakes in Growing Your Franchise Business for The Franchise Expo organization. http://www.franchiseshowinfo.com/atlanta/
Finding Your "Million Dollar Blind Spot" Is One of the Most Powerful Ways to Grow Your Sustainable, Wealthier Bottom Line. Glad to help you or a colleague find your Million Dollar Blind Spot opportunity or risk before it finds you.
Pictures of my flier and coupon are inserted below. I was unprepared for the opportunity and did not take a picture with my smiling, happy audience. Even the FiscalDoctor sometimes misses fleeting opportunities.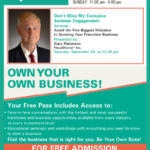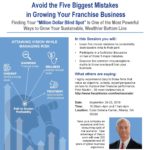 Please share the flier I prepared to supplement their coupon with your organization.  I passionately love helping people avoid their major or Million Dollar Mistake.  Sometimes a $5,000 mistake feels like a million dollars.
If you are unprepared when the opportunity shows up, you may not see it or be unable to seize the opportunity. If you are unprepared and the risk shows up, it can be very painful even deadly.